Urgent Call to Wopke Hoekstra/ COP28 with Letter & Art Action in Brussels
International Coalition Forest and Nature Action Groups are calling Hoekstra to order
BRUSSELS | In the week preceding COP28 in Dubai, the international coalition of nature action groups (from the Netherlands, Europe, Africa and North America) sent an urgent message to Wopke Hoekstra, the new EU Climate Commissioner, via an urgent letter and a visual Art Action:; 'ICARUS' in Brussels on Place du Luxembourg.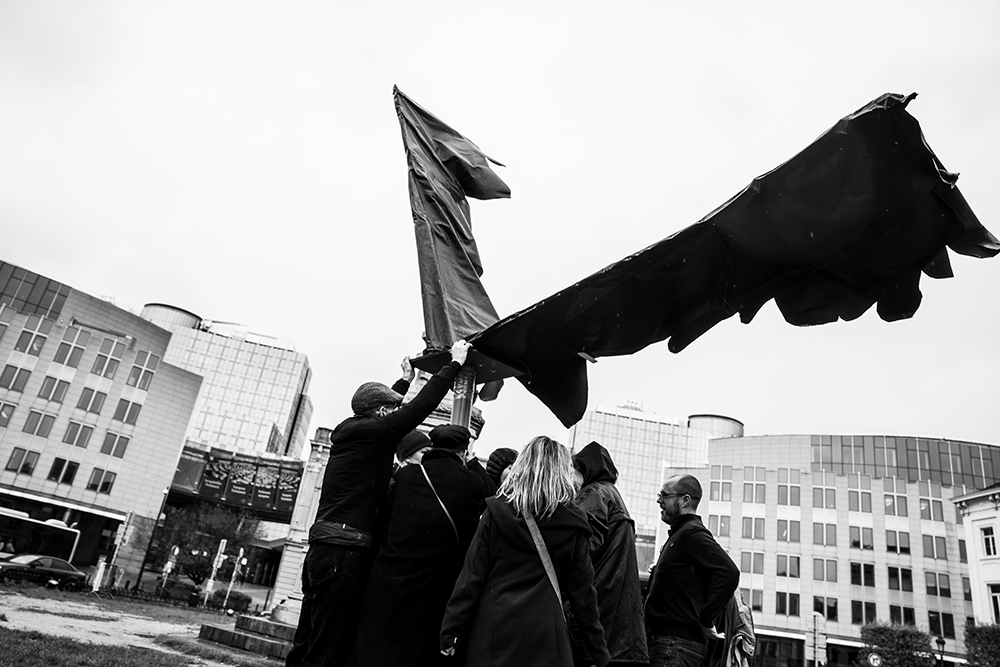 The message is an urgent call to tighten the global renewable energy target proposed by President Von der Leyen. Even the IPCC indicated in 1997 that although wood burning is 'technically renewable' (trees grow back in 50-100 years), it is difficult to define as 'truly renewable' in practice. The Nature Action Coalition calls on EU Climate Commissioner Hoekstra at the upcoming COP28 summit to exclude biomass burning from the global renewable energy target, and to promote policies that put forests, biodiversity, air quality and climate first.
In Germany, almost 50 percent of the wood raw material used is burned. And Germany is a frontrunner in wood burning in the EU. In doing so, we are burning our climate, our biodiversity and our future. EU etc now! (Jana Ballenthien, ROBINWOOD, Germany)

Intact forest ecosystems play a crucial role in climate change mitigation and adaptation, and this role will only become more important in the coming decades. Yet the EU's increasing demand for wood pellets for energy is causing large-scale forest degradation, both in the EU and beyond (Martin Pigeon, FERN)

Industrial forest burning was formalized in the Kyoto Protocol in 1997 because negotiators then believed that biomass was small enough to achieve forest regrowth. But this was never intended to ship millions of tons of wood thousands of kilometers away to be burned in another country


Fenna Swart, Clean Air Committee, NL
The European Union, according to the Nature Action Coalition, plays a crucial role in advocating forest conservation for biodiversity, air quality and climate mitigation. Recent and future EU legislation such as the Biodiversity Strategy, the Forest Strategy and the Forest Monitoring Regulation each emphasize the need for the EU's commitment to restore, protect and expand more forests. Not less. It is therefore essential, according to the Nature Action Coalition, that the EU recognizes that continuing to use biomass for fuel undermines these existential and science-based obligations.
Context and background
Art Action; ICARUS
On November 20 at 1 p.m. on Place du Luxembourg, an Art Action was carried out by the international coalition of forest and nature action groups, entitled: Icarus. The Art Action Icarus is both an aesthetic and philosophical image. In the Art Action, a performance is performed in which members of the coalition hold two large black wings. As a result, the members act as the living body of Icarus, causing the statue to come to life on the square. The statue Icarus, with the black wings, each 2.5 m wide, refers to the dangers of pride. The flight of Icarus is a metaphor for man's overstepping of his limits, which in this case results in forests being burned for so-called sustainable energy. In the center of the square is a statue of John Cockerill, a British-Belgian industrialist from the 19th century, which symbolizes the industrial revolution. The Art Action with Icarus shows where we started as a society, and where it has taken us. Icarus thus symbolizes a message to Hoekstra and the COP 28 that exposes the true nature of the EU if we continue on the path it is taking with its renewable energy target and its effects on the climate, forests, biodiversity and our air quality.
Open letter
LINK
Biomass
The use of forest biomass must be phased out as the global energy system transitions to renewable energy sources. These points have been repeatedly reported in many scientific reports. Net emissions from burning forest wood have exceeded those from fossil fuels for decades, and it is not foreseeable that biomass will ever achieve the politically desired "carbon neutrality."
Around 41% of the EU's renewable energy input comes from burning woody biomass, of which around half comes directly from forests. More than half of the wood harvested in the EU is burned for energy purposes. A percentage that has increased since market incentives for woody biomass were introduced into EU legislation. Forest and clear-cutting that takes place as a result of this has led to extensive forest degradation and even the complete loss of the carbon sink in several Member States.
The international nature action coalition calls on Wopke Hoekstra to stand up for forms of renewable energy that exclude forest biomass during the upcoming COP28 summit. And to promote policies that put forests, biodiversity, air quality and climate first.